Well today was not a typical day at work. I had a co-teaching seminar to attend at 12 so I got to leave early and have lunch. I went to Subway (not my typical Slimfast but not too many calories). Since Carrie was close by I ate lunch with her. I never get to go out for lunch so I was very grateful. After the seminar (which was actually very good) I got to go home at 3! How exciting! Other than there is nothing new going on. The first college football games come on this Saturday. I do not really care about college football, but since I am from Georgia I suppose I have to go for the Bulldogs. I just can't wait for all the cookouts and hanging out with friends.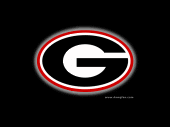 Updates: I completely forgot to add that Carrie inspired me try and teach Duncan to lay down. He will already sit, but now he can lay down too!! It only took a few tries with food and he did it! Now he will do it without any food or treats. He is so smart! Also I read the front of the Hartwell Sun and they are in discussions about passing liquor buy the drink. How great would it be to have a REAL margarita on Fridays!! Also think of all the new restaurants that would come! I will be voting yes!
The video proof. Ignore my voice!