Hello everyone! I have an unexpected day off work. Yesterday I came down with the HORRIBLE stomach virus. They are the absolute worse! Of course my shadow is now sick…
This is the first time is has had the stomach virus and he is just pitiful. Luckily, I am all better and can take care of him. He is laying around, so I thought I would do a little vinyl project. I purchased the Silhouette Cameo before Abigail was born and have had very few opportunities to actually use it.
I have seen these adorable white pumpkins with vinyl letters. I knew I had to try this out!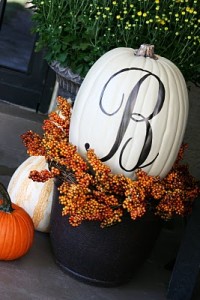 I started off with two white pumpkins…my favorites!
Then I cut out the letters "BOO!" and a spider with spider web.
For the other pumpkin, I put our address numbers and a foliage scroll.
I love how they turned out! As you can tell I added some ribbon. Ignore my almost dead mums. They were getting too much soon. Anyone have tips on how to keep them looking good?
This is how the outside originally looked. I wish the mums still looked like that!
Have a great Friday! I pray we are all better and it does not spread to anyone else!